Maybe it's the rain?
Whatever it is, this Monday morning is starting off really slow for me today... not cool! (Every now and then, a girl needs a pick-me-up first thing in the morning to get things started off right - I think I'll stop in Swagger on my way out this morning for some shopping TLC.)
For those of you who haven't stopped in the store the last few weeks, everyone's favorite retail diva Mandy has been all a buzz about her trip to the land down under - to Australia! In honor of her first trip to Bonzai Beach, Mandy's Choice for this week's Manic Monday special is that all beach cover ups are 15% off in the store today!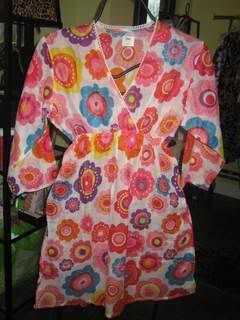 (This is the fab cover-up from the last store eNews that I've had my eye on!)
Now THAT, is something I can get excited about on a Monday! And the thing that will get me through the after-lunch crawl... planning my next mini-vacay to a warm (and more importantly... SUNNY!) destination where I can sport my new beach cover up!
Remember girls: Manic Monday specials are only good on Monday from 10am until 6pm in the store so be sure to stop in during lunch or on your way home and let the retail therapy session cure even the worst case of the Mondays!
Please print this off and bring it in!